Why choose Mobi-C® Cervical Disc over Fusion?
Mobi-C the first and only cervical disc in the U.S. approved to treat more than one level of the cervical spine. It received FDA approval for one and two-level indications in August 2013.
It demonstrated statistical superiority compared to cervical spine fusion in overall study success when used in two-level patients.
It has been implanted more than 17,000 times in 25 countries around the world since 2004.
It is differentiated from other cervical discs because of its bone sparing technique, which eliminates the need for bone chiseling and drilling, and optimizes it for two-level indications.
Patented Mobile Core Technology™ allows the Mobi-C disc to angulate and slide in multiple directions similar to natural cervical motion.
The greatest clinical benefit of artificial disc replacement with Mobi-C compared to cervical spine fusion were seen in two-level indications, particularly in reoperation rates and disability improvement.
In the clinical study, patients returned to work on average one week faster (one-level patients) and three weeks faster (two-level patients) compared to fusion patients.
Mobi-C How it Works
It contains patented mobile bearing technology that allows the polyethylene core to slide and rotate inside the disc for self-adjustment to the cervical spine movements. This means that it can react to the normal motion in the cervical spine.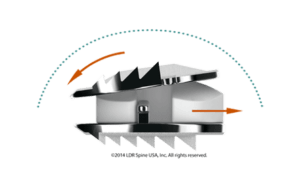 In a surgery with the Mobi-C Cervical Disc, the unhealthy disc is removed, but instead of a bone spacer or plastic implant along with a plate and screws, a Mobi-C is implanted into the disc space. Where a fusion procedure is intended to eliminate motion at the surgery levels, the goal of a surgery with it is to allow motion at those levels.
Mobi-C provides bone sparing fixation without chisel cuts into the small vertebral bodies of the cervical spine, making it bone sparing.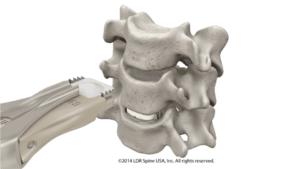 MOBI-C® Patient Testimonial
What do Real Patients say about MOBI-C Cervical Disc
As with any surgery, complications may occur as a result of treatment. Potential complications following treatment with the Mobi-C include:
• Pain in the neck, arm, back, shoulder, or head.
• The feeling of pins and needles in the arms.
• Difficulty swallowing.
Please visit www.cervicaldisc.com/aboutyourneck for a complete list of potential risks and benefits of Mobi-C surgery. Visit www.cervicaldisc.com/clinical-results for indications and detailed clinical results.