Michael Thambuswamy, MD, MBA
Neurosurgeon located in Tulsa, Sallisaw, And Claremore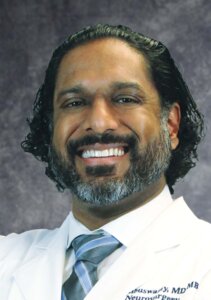 Dr. Thambuswamy is a Neurosurgeon at OBSI, in Tulsa, Sallisaw, and Claremore Oklahoma. As a board certified neurosurgeon, he provides safe and effective care for a wide range of conditions, including head trauma, carpal tunnel, back pain, and brain cancer.
Dr. Thambuswamy completed his undergraduate education at Baylor University in Waco, Texas, where he earned a Bachelor of Arts in Biology. He then attended the University of Oklahoma College of Medicine in Tulsa, Oklahoma, where he volunteered at the student-run Bedlam Clinic, providing health care and medications to Tulsa's uninsured and underserved.
After graduating with his Doctor of Medicine, Dr. Thambuswamy went on to the Miller School of Medicine at the University of Miami, in Miami, Florida, to complete his neurosurgery residency and received fellowship training in neurosurgical oncology.
Dr. Thambuswamy has a special interest in several areas, including brain tumors, cranial related neurosurgery disorders, cervical disc replacements, kyphoplasty, SI joint infusion, and stem cell injections. He has experience performing cutting-edge procedures with minimally invasive and endoscopic surgery.
As a member of the Oklahoma Spine & Brain Institute, Dr. Thambuswamy takes an integrative approach to patient care, working with fellow physicians to ensure the best possible outcome for each of his patients.
Dr. Thambuswamy – Special Interests
Minimally Invasive & Degenerative Spine Conditions
Brain Tumors
Kyphoplasty
SI Joint Fusion
Cranial related Neurosurgery Disorders
Cervical Disc Replacements
Endoscopic Procedures
Cranial and Spinal Navigation Guided Surgery for select Neurological Disorders
Select Pain Procedures
Head Trauma
Shunts
Stem Cell Injection