Board Certified Neurosurgeon located in Tulsa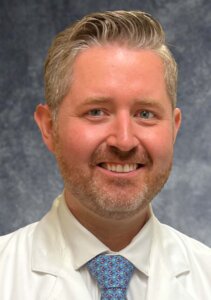 Dr. Harwell is a board certified neurosurgeon at Oklahoma Spine & Brain Institute in Tulsa, Oklahoma. He applies his extensive experience to identify and treat a wide range of conditions affecting the brain, spine, and nerves.
He pursued his undergraduate education at the University of Oklahoma in Norman, where he graduated with a Bachelor of Science in Zoology and Biomedical Science. Then he went on to the University of Oklahoma College of Medicine in Oklahoma City. While there, Dr. Harwell maintained an active student life, dedicating his free time to the student-directed Bedlam Clinic and providing free health care to Tulsa's underprivileged population.
After graduating with his Doctor of Medicine, Dr. Harwell completed his surgical internship and residency at the University of Cincinnati in Ohio, He then attended post-graduate training at the University of Michigan in Ann Arbor, Michigan, where he completed his neurosurgery residency and fellowship training in complex spine surgery.
As a key member of the Oklahoma Spine & Brain Institute, Dr. Harwell dedicates himself to providing the highest quality of neurological care. He takes an integrative approach, working with his patients and fellow physicians to develop the most effective care plans. Dr. Harwell has a special interest in several areas, including the treatment of brain and spinal tumors, degenerative spine conditions, minimally invasive surgery, complex spine surgery, cervical artificial disc replacement, and spinal computer navigation.
Dr. Harwell maintains his commitment to quality care both in and out of the office. He's a member of the American Association of Neurological Surgeons as well as AO Spine and the Alpha Omega Alpha Honor Medical Society.
Dr Harwell – Special Interests
Minimally Invasive & Degenerative Spine Condition
Complex Spine Surgery for Scoliosis, Tumors & Trauma
Cranial & Spinal Computer Navigation for Various Neurological Conditions
Treatment of Brain & Spinal Tumors
Cervical Artificial Disc Replacement
Kyphoplasty